Backside of a Dream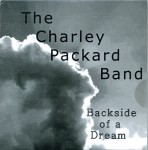 Backside of a Dream is the 2008 recording by The Charley Packard Band, the beloved featured band at Eichardt's on Wednesday nights. Charley Packard was joined by Jesse Harris (bass and drums), Frank Moore (electric and acoustic guitar, fiddle), Ray Allen (mandolin, acoustic guitar on "Backside of a Dream"), Del Goff (slide guitar, harmonies) and Shaun Moore (keyboards, bongos) for this album recorded in Sandpoint, Idaho. Backside of a Dream includes these songs:
Hair to Bone
Ready to Fall
Dream Romance
Bottle in Your Hand
Backside of a Dream
Smoke 'em (if Ya Got 'em)
Lay Down Again
Daddy's Coming Home
Feel the Sun
My Paradise
Winter Rose
Between You and Me
Mastered by Dennis Coats. Written by Charley Packard.