Rocky Mountain Wildflowers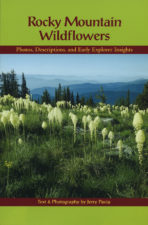 Photos, Descriptions, and Early Explorer Insights
By Jerry Pavia
Nonfiction, 6" x 9", 220 pages, softcover
ISBN 1-55591-364-4
Wildflower lovers, hikers and travelers in our frontal ranges of the Rocky Mountains, the Cabinet and Selkirk mountains – as well as to the seven major parks in the Rockies -- will welcome this fascinating, authoritative guide to wildflowers commonly found throughout the region.
This full-color, beautifully illustrated guide provides the identifying characteristics and stories of 95 wildflowers common to the Rocky Mountain region of the United States and Canada.
The book is useful throughout the northern Rockies, but is organized as an especially handy field guide for visitors to the seven major parks in the Rockies -- Rocky Mountain National Park, Glacier, Waterton-Glacier, Kootenay-Yoho, Banff, and Jasper. In addition to natural history information on each plant, the remarks of early naturalists and explorers who first documented these plants add lively human history. Rocky Mountain Wildflowers features:
Wildflowers organized by color

Beautiful full-color photographs and descripption for each plant

Individual maps for the seven major parks of the Rockies with site locations noting where explorers made their quoted remarks about particular wildflowers

A glossary of plant terms, a bibliography, and complete index
There is a limited number of copies of this classic field guide still available, and the book will go out of print when these are sold.
Photographer and writer Jerry Pavia, a resident of Bonners Ferry for more than 40 years, has authored or illustrated numerous books on flowers for various publishers. He is also the photographer, with Tim Cady, of the beautiful coffee-table book Selkirks Spectacular: A journey on the International Selkirk Loop. Click to see more.