Trails of the Wild Selkirks: South of the Canadian Border – Second Edition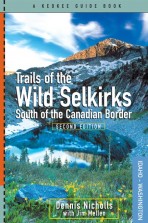 By Jim Mellen with Dennis Nicholls
Nonfiction, 340 pages, 6" x 9" softcover, maps and photos, appendixes
ISBN 978-1-879628-45-8
Now updated as a second edition, Trails of the Wild Selkirks: South of the Canadian Border focuses on the portion of this spectacular range that spans northeastern Washington and northern Idaho, before it stretches far into Canada. The second edition includes trail updates and new trails!
The Selkirk Mountains stretch across a wide swath of the Inland Northwest. They host a stunning variety of landscapes, from lush temperate rain forests to dry ponderosa pine stands to naked granite on the high peaks. The Selkirks extend far north into Canada, but Washington and Idaho hold one-third of the range plus an expansive, little-heralded trail system. These wonderful wildlands also remain home to wildlife found almost nowhere else in the lower United States, including grizzly, woodland caribou, lynx and wolves. Updated extensively in the second edition, Trails of the Wild Selkirks is still the most comprehensive guide ever produced for the southern Selkirks, with descriptions for more than 170 trails plus charts, maps and photos to help hikers of all abilities easily find terrific trails – and make their own discoveries in the beautiful, wild Selkirks.
Author Dennis Nicholls hiked about 1,300 miles to research this book, and Jim Mellen and his wife, Sandii, were frequent hiking companions. Writing in the preface to the second edition, Jim Mellen noted: "While working on the second edition of this book, I was struck by the sheer number of trails, accuracy and the attention to detail. No matter what I do to update Trails of the Wild Selkirks, it will always belong to Dennis Nicholls."
An indispensable guide for hikers, the book also identifies trails suitable for mountain bikers and includes detailed descriptions of trails, numerous maps and photos and a features chart to help readers more easily find trails with major points of interest such as lakes, waterfalls, old-growth forest, lookouts and peaks. In the second edition, GPS coordinates are included for all trailheads.
Nicholls also provides an absorbing natural history for the range, along with several essays drawn from his own adventures wandering the Selkirks. Whether you're a visitor to the area, or a longtime resident, Trails of the Wild Selkirks will help you explore and appreciate these little-known wildlands.
Useful companion to this book: Trails of the Wild Cabinets
Born in Richmond, Virginia, in 1956, Dennis Nicholls moved to Montana right out of high school and attended Flathead Valley Community College in Kalispell. He then worked seasonally as a forestry technician for 10 years with the U.S. Forest Service. For several more years he served as a forestry consultant before founding The River Journal newspaper; the first issue was put together on a kitchen table at his home in Trout Creek, Montana. Nicholls passed away May 4, 2009, in Noxon, Mont.
Third Edition coming November, 2021! Including updates to trails, some new trails, and additional writings on wildlife and hiking.