Hiking Guide to Washington Geology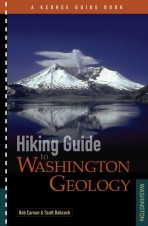 By Bob Carson and Scott Babcock
Nonfiction, 272 pages, 6" x 9" softcover, 85 photos, 7 maps and a fully detailed guide to 56 trails
ISBN 978-1-879628-37-3
Hiking Guide to Washington Geology leads readers into the beautiful scenery of Washington state, which holds some of the most geologically diverse landscapes anywhere, and gives them the dramatic geologic story behind it all. Besides being a useful field guide, this book includes chapters on gearing up for field geology and "Geology 101," with everything you need to know on reading the rocks of Washington.
Make sure your next hike ROCKS! Hike Washington's beautiful scenery, and get the dramatic geologic story behind it all.
Did you know ...
That 50 million years ago, palm trees grew in the Pacific Northwest?
That just 15,000 to 18,000 years ago, Washington was scoured and sculpted by some of the most cataclysmic floods in the history of the planet?
That hundreds of massive lava flows blanketed large areas of the state?
Fact is, Washington state holds some of the most geologically diverse landscapes anywhere - from today's volcanoes to the ancient remnants of continental collisions. This book offers more than 50 superb hikes, from short day trips to overnight backpacking treks, to the best spots around Washington to see the Earth's most monumental forces at work!
Fully detailed guide to 56 trails in 8 regions statewide
Hikes headlined with the geologic features to be seen
Illustrated with 85 photos and 7 maps
Includes introduction to geologic principles and observation tips
Robert J. Carson is Phillips Professor of geology and environmental studies at Whitman College in Walla Walla, Washington. He earned a Bachelor of Arts in geology from Cornell University, a Master of Science from Tulane University and a doctorate from the University of Washington. His interests are in the earth and environmental sciences, and his courses deal with resources and pollution, human interaction with the biosphere, glaciers, volcanoes, water, landforms and natural hazards. A whitewater guide and a member of the American Alpine Club, he has led field trips in Africa, Eurasia, South America and throughout North America. His other books include Where the Great River Bends and East of Yellowstone.
Scott Babcock is a professor and chair of the Geology Department of Western Washington University in Bellingham, Washington. He has studied geology and led expeditions from the Arctic to the Antarctic and from the depths of the Grand Canyon to the peaks of the Alps. However, he has discovered that some of the best rocks in the world can be found right here in Washington state, and the very best of these can be found along the hikes described in this book.