Villages: Voting & Taxes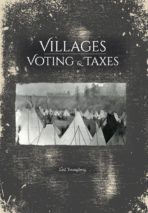 Written by Leif Youngberg
Non-fiction, 104 pages, 7" x 0.2" x 10" softcover, photos
Produced in association with Keokee Co. Publishing, Inc.
ISBN: 978-1-7126-2289-6
Over time, voting and taxes have evolved differently in villages all over the world.
In America, the expansion of voting rights has generally correlated with the level of enlightenment of the inhabitants of its villages. Taxes, of course, are a direct result of the voters and shape public policy (e.g. "rivers and lakes should have water clean enough to drink").
"Villages Voting and Taxes" tells the story of how a hilarious politician – and after he was declared dead, his estate – achieved a higher quality of life for all breathing beings in an actual village by expanding voting rights and simplifying taxes. Although this is a fictional account, it is drawn from a series of true events.
Author Leif Youngberg is a 15-year resident of northern Idaho, where he co-founded and directed Seven Planet, a green merchandising group promoting mindful, socially aware commerce.
*Not available for retailer discount