Hills, Hawgs & Ho Chi Minh: More Tales From A Wayward Runner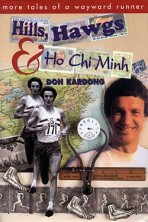 By Don Kardong
Nonfiction; 254 pages; 6" x 9"
Softcover
ISBN 1-879628-12-0
At the heart of every run is an adventure, and never has adventure running been given such full voice as in this collection of stories by Don Kardong, a former Olympian and world-class marathoner. Among the tales here, Kardong relates 10 years of "ultra" running adventures, from a race across the Grand Canyon to a run up the Empire State Building to the first marathon in Vietnam.
Whether you're an armchair athlete or a serious runner looking for inspiration and entertainment, you'll see why Sports Illustrated called Don Kardong "the only spiritual descendent of Mark Twin ever to bring his unsparing eye and antic voice to running."
Don Kardong finished third in the 1976 United States Olympic Trials held in Eugene, Oregon with a time of 2:13:54.  That summer, in Montreal, Kardong finished a close fourth in the men's marathon at the 1976 Summer Olympics, just three seconds behind the bronze medal winner.  From 1977 to 1986, Kardong owned and operated a retail running store in Spokane. He was also founder and long-time director of the Lilac Bloomsday Run in Spokane, Washington, which began in 1977 with about 1,000 participants and has grown into one of the country's largest civic running events, annually attracting over 50,000 runners, joggers and walkers.