A Shot in the Dark: The Mysterious death of Emma Langford McEwen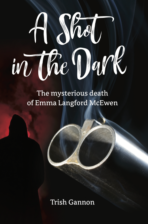 By Trish Gannon
Non-Fiction, 174 pages, 6″ x 9"
Softcover
Published in association with Keokee Co. Publishing, Inc.
On the night of April 8, 1886 a shot rang out in the darkness, followed by a cry. "It's Emma! My wife's been killed!"
It began as a story of a terrible tragedy: a gun misfires and a young wife and mother is dead. It turned into a two-year ordeal featuring three trials, and a community torn asunder as they tried to discover if this was an accidental death, the misdirected revenge of a "troublesome negro," or a dark tale of a ruthless man and his illicit love for his wife's younger sister.
This is a true story. Emma Langford McEwen was killed by a gunshot to the head. Her husband, Lafayette Burt McEwen, stood trial three times for the crime and was the subject of newspaper headlines calling him a wife murderer. Her young sister, Nannie Langford, endured the condemnation of her community for the "illicit affection" she and her brother-in-law felt for each other. The Trenton Massacred, where 16 black men were pulled from the county jail and at least five were murdered--lynching that made headlines throughout the country--happened as reported and that tragic event played a role in Emma's story as well. And then there is Nannie's suicide (or murder?) 30 years after these events.
What is the truth of the matter? A hundred and fifty years after the fact, only you can decide.
*Not available for retailer discount