Finding the Light Within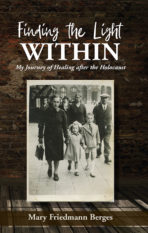 My Journey of Healing After the Holocaust
By Mary Friedmann Berges
Autobiography, 162 pages, 6" x 9"
Softcover
ISBN 9781090532152
Mary Friedmann Berges, a resident of Bonners Ferry, Idaho, shares her story of loss and love in her new memoir, "Finding the Light Within: My Journey of Healing After the Holocaust."
Mary's story begins in Belgium, where she was born in 1935. She recalls an early childhood filled with love and laughter in a Jewish family that included her older brother, mother, and father. Then, during World War II in the 1940s, millions of people were sent to concentration camps and killed as part of the German policy to eradicate all European Jews. Thousands of Jewish children survived the carnage, however, because they were hidden by their parents with friends and relatives, or in Catholic orphanages. Mary was one of those children.
In the decades to come, Mary would be haunted by feelings she did not understand: abandonment, as well as self-perceived inadequacies and depression. But with perseverance and the aid of those around her, Mary eventually discovered a place where she belonged. Working on her book over the last few years hasn't been easy, however, as it has brought back many painful memories from her past, along with a few solemn answers to her biggest questions.
But Mary believes her ability to find happiness and joy, and accept the love of family once again, is a lesson of how every person can change and find fulfillment at any age. "Despite the relentless turmoil within us, it is possible to overcome challenges," she said.
*Not available for retailer discount