My Name is Ramsey (Hardcover)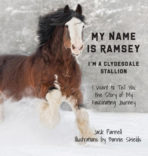 I'm a Clydesdale Stallion
Written by Jack Parnell
Illustrated by Bonnie Shields
Nonfiction, 56 pages, 8.5" x 8.5"
Hardcover, full color
Produced in association with Keokee Co. Publishing, Inc.
ISBN 978-1-879628-80-9
This colorfully illustrated children's book is the true story of a magnificent Clydesdale named Ramsey. It tells his journey, from a foal born in Scotland – where he won as a champion colt in the national horse show – to travels with his new owners to California and eventually to northern Idaho, where he lives today.
In relating the story of Ramsey, author Jack Parnell instills a lesson for young readers that each of us is very special, and the events of our lives - both those that good and those that may be scary - help shape our lives and character. In Ramsey's story, he encourages us all to dream big dreams ... and to chase them until we catch them.
Jack Parnell has spent his life in agriculture, from growing up on his father's dairy farm to serving as Deputy Secretary of Agriculture for the U.S.A. to his own ranch in Idaho, where Ramsey lives today.
Illustrator Bonnie Shields is an artist for Leanin' Tree, the publisher of western themed greeting cards, and has ridden and packed for decades around the West. She lives in northern Idaho and has a special passion for mules ... and horses, too.
*Not available for retailer discount