Winifred's Way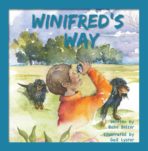 Written by Babe Belzer
Illustrated by Gail Lyster
Fiction, 40 pages, 10.5" x 10.5"
Hardcover, full color illustration
Produced in association with Keokee Co. Publishing, Inc.
ISBN 978-1-879628-53-3
What is Wanda Wren telling her "friend" Winifred Wren?  Does Wanda approve of Winifred's use of her time? What does Wanda think Winifred should be doing?
Find out if Winifred's Way is a good way for creating a lovely new nest! You will meet Winifred Wren, her young friends, John Paul and two peppy Gordon Setters in this delightful story.
Babe Belzer lives on a farm near Cando, North Dakota. Living next door to her is the young boy, John Paul, who is included in this little story. John Paul is lucky enough to have two black Gordon Setters, who also play a part in this story.
Inspiration for this book was when Babe found a perfectly formed, small, gray bird nest in their horse pasture, many years ago.  The nest Babe found was the very same color of their four Arabian horses!  For years, Babe kept imagining how the nest came to be, and this is her version of its creation.
She hopes your children will enjoy meeting Winifred Wren and reading her story as much as she loved writing it!
Gail Lyster delights in the love she shares with her family and friends both young and old, and the beauty surrounding her. This joy, wonder, and creativity infuse her art.
Gail dedicates this book to her mother who opened their eyes to the wondrous world of nature...
*Not available for retailer discount