Flying Over Rainbows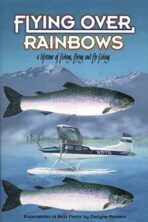 By Dwayne Parsons
Nonfiction, 128 pages, 6" x 9"
Hardcover, photos
ISBN 1-879628-19-8
The memoir Flying Over Rainbows charts the lifetime of a remarkable Northwest personality: Buzz Fiorini, founder of an outdoor sports chain whose adventures in fishing, flying and fly fishing covered the continent and brought him friendships with such luminaries as John Wayne, Bing Crosby and others.
Flying Over Rainbows is a compilation of stories that recaps the highlights of Buzz Fiorini's life written by a friend and author, Dwayne Parsons. Through extensive taped interviews with Buzz and several of his friends, Parsons gathered the stories and anecdotes necessary to write this book.
In a narrative fashion, Parsons tells how this Pennsylvanian moved to the Pacific Northwest out of a passion for skiing and fishing, how he fell into a career guiding fishermen and hunters, and how he discovered legendary fishing waters in southern Alaska and western Canada that created unforgettable memories for him and hundreds of clients. Those clients included influential corporate customers of Boeing and celebrities who became friends, such as John Wayne and Bing Crosby.
Flying Over Rainbows describes how Fiorini developed his passion for fishing and his talent for teaching others. His creativity, innovation and professionalism as a fishing guide and pilot earned him the respect of his peers and the great contemporaries he met along the way. We learn about a man ahead of his time as a conservationist who practiced integrity and compassion when it came to the resource he treasured most – wild fish and their habitats.
Perhaps the greatest lesson learned from Buzz through this book is that life should be lived to the fullest, and, at the same time, how pleasure can be enhanced by sharing life experiences with others.
Sebastian Lawrence "Buzz" Fiorini grew up in Sayre, Pennsylvania, the son of a brewery owner. He and his wife, Julie, moved to Bremerton, Washington, in the early 1940s, where Buzz worked at The Boeing Company in Seattle. Buzz started guiding fishing trips in 1946 while Boeing was on strike, a move that led him to a 40-year-long career guiding in western Canada and Alaska, piloting a floatplane into some of the most remote and productive fishing waters of those regions. Fiorini also owned and operated the largest ski school of its kind and established a ski and sporting goods shop in Seattle, Fiorini Sports. Fiorini Ski School still operates today. Fiorini died in 2007 at age 91.