Pavlov's Trout: The Incompleat Psychology of Fishing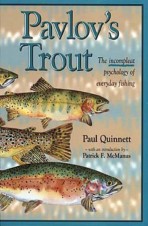 By Paul Quinnett
Nonfiction, 224 pages, 5.5" x 8.5"
In this widely acclaimed book – the first ever to probe the psychology of fishing – Paul Quinnett, Ph.D., takes an entertaining look at just what it is people go fishing for – and it's not always the fish, he finds.
Henry David Thoreau once observed "Many men go fishing all their lives without knowing that it is not fish they are after." In his book, Pavlov's Trout: The Incompleat Psychology of Everyday Fishing, psychologist and outdoor writer Paul Quinnett, Ph.D., takes an entertaining and illuminating look at just what it is people go fishing for. And as Quinnett relates, the fish landed is indeed secondary to the challenge, optimism, excitement and freedom which the pursuit embodies. "It is better to fish hopefully than to catch fish," he observes. "Some young anglers might disagree, but no old fisherman would. Fishing is hope experienced."
But Pavlov's Trout is far more than a paean to the joys of fishing. It is the first real exploration of the psychology of fishing, and Quinnett examines the mysteries of the sport through the microscope of modern psychology. Various chapters explain such phenomena as what motivates fishermen, why some fishermen seem compelled to lie about their catch, "fishaholism," why fishermen spit on their bait, and how any innocent child can be positively addicted to a sport with so many rewards. Written with humor and insight, Pavlov's Trout is a delightful and informative book for anyone who enjoys fishing – or merely wonders at the primal pleasures of the sport. With an introduction by outdoor humorist Patrick McManus, who says "All I can predict is that it will be a top contender for the title of fishing classic. ... Pavlov's Trout is a first-rate book."
Paul Quinnett, Ph.D., holds true to his own advice to go fishing often, with frequent excursions to Alaska, Canada, Christmas Island, and his own homewaters around eastern Washington and northern Idaho. He is a nationally recognized authority on suicide prevention, about which he has written several books, including "When Self Help Fails" and "Suicide: The Forever Decision." He also created "QPR, CPR for Suicide Prevention," a national program for the prevention of suicide. Click to learn more on his blog, On Suicide. Dr. Quinnett likes to say he's been a fisherman all his life, but a psychologist for only the last 33 fishing seasons; he uses his frequent outdoor pursuits as grist for a prolific writing avocation that has included publication in hundreds of national magazines, including Gray's Sporting Journal, Sporting Classics, Field & Stream, Sports Afield, Audubon and others.
Praise for Pavlov's Trout
"This is a lighthearted and often insightful book that comes from still another perspective to address the question, 'why fish?' "
– Fly Rod & Reel
"An entertaining, insightful, fresh look at an ancient human pursuit ... Pavlov's Trout has cast a new mold for fishing literature."
– The Spokesman-Review, Spokane, Washington
"It was only a matter of time before someone wrote about what goes on inside anglers' noggins — quite a bit we were pleased to learn. Pavlov's Trout is fun to read."
– American Angler magazine
"Every fisherman knows that a day spent fishing is not subtracted from your life. Fish every day, then, and live forever. And, as psychologist Paul Quinnett proves here, 'It is much better to fish hopefully than to catch fish.' This is a lighthearted cast through the murkier waters of 'fishaholism.' "
– The Oregonian, Portland, Oregon