Glacial Geologic Map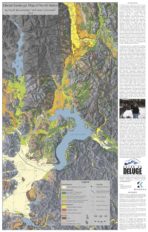 Glacial Geologic Map of North Idaho and the Shaded Relief Map of Northern Idaho and Parts of Western Montana and Eastern Washington
This two-sided map includes a map titled Glacial Geologic Map of North Idaho on the front and Shaded Relief Map of Northern Idaho and parts of Western Montana and Eastern Washington on the second side.  Glacial Geologic Map of North Idaho is a color map produced at the scale of approximately 1/175,000 and represents over 30 years of research and fieldwork by Dr. Roy Breckenridge, Former Idaho State Geologist and VP of Coeur du Deluge Chapter. The second author of this map was Dean Garwood, who following Roy's passing organized Roy's information and using his GIS skills put together multiple layers of information to produce the Final Map. The map is in commemoration of Roy and his dedication to the fields of Geology and Education and his commitment to our chapter and the Ice Age Floods Institute.
The back or second-side of this map is also a color map that was generated by Dean Garwood.  This shaded colorized relief model was overlain with other important geographic information to make the map more useful.  The shaded relief map was printed at a scale of approximately 1/198,000 and therefore covers a larger area on the Inland Northwest.
This large map is 33.75" x 21.5", and can be purchased either flat for wall display, or folded for use in the field.