On the Trail of the Ice Age Floods: The Northern Reaches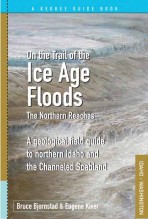 Second printing!
A geological field guide to northern Idaho and the Channeled Scabland
By Bruce Bjornstad and Eugene Kiver
Nonfiction, 480 pages, 6" x 9"
Softcover, 400 black-and-white illustrations, maps and photos, 50 color plates, index
ISBN 978-1-879628-39-7
Following up on his first volume, On the Trail of the Ice Age Floods: A geological field guide to the Mid-Columbia Basin, geologist Bruce Bjornstad joined forces with colleague Eugene Kiver to guide readers upstream – northward into the Channeled Scabland and northern Idaho in The Northern Reaches. Illustrated with 400 maps, schematics, photos and illustrations, including 32 pages of color plates, On the Trail of the Ice Age Floods: The Northern Reaches provides a clear, concise and easily useable guide to the remarkable geologic record of the great Ice Age floods.
An astonishing landscape, scoured by ancient floods – that describes northern Idaho and the Channeled Scabland of eastern Washington.
Ice Age cataclysms violently transformed the Northwest thousands of years ago, leaving behind scores of flood features, many found nowhere else on Earth. The sheer enormity of the Ice Age floods is mind-boggling. The floods helped gouge out Idaho's largest and deepest lake, Pend Oreille, and sculpted the weird topography of eastern Washington.
In this volume of On the Trail of the Ice Age Floods, geologist Bruce Bjornstad and Eugene Kiver explore numerous flood features and present dozens of trails and tours directing readers to experience, firsthand, the striking aftermath of the Ice Age floods.
- Explanations of 19 types of landforms
- Guides to 65 flood-formed features
- 39 hiking and biking trails
- Five driving tours and two aerial tours
Both volumes of On the Trail of the Ice Age Floods feature cover illustrations by Stev Ominski (stevominski.com), a Corvallis, Ore., artist renowned for his series of paintings on the Ice Age floods. The books make ideal companions when exploring the Ice Age Floods National Geologic Trail, named one of "The 10 Most Spectacular Geologic Sites" in the continental United States by Smithsonian Magazine.
Useful companions to this book: On the Trail of the Ice Age Floods and IAFI Map of the Ice Age Floods in the Pacific Northwest
A resident of Richland, Washington, Bruce Bjornstad is a licensed geologist/hydrogeologist who has studied the Ice Age floods since 1980. He is a senior research scientist at the Pacific Northwest National Laboratory.
Also a licensed geologist, Eugene Kiver is professor emeritus of geology at Eastern Washington University, and while he lives primarily in Anacortes, Washington, he still conducts research near his Cheney, Washington, home, which lies on a pendant flood bar. Both are active members of the Ice Age Floods Institute and regularly lecture and lead field trips on the subject.
Bruce Bjornstad films awe-inspiring floodscapes using his GoPro camera and Quadricopter. Click these clips below to see the amazing landscapes that he writes about in his guidebooks!
'Dry Falls Floodscape'
'Wallula Gap Floodscape'
'Deep Lake Potholes Floodscape'
'Drumheller Channels Floodscape'