Fishes of the Columbia Basin – 2nd Edition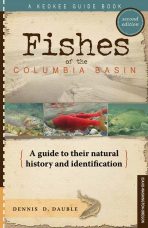 A guide to their natural history and identification
By Dennis Dauble
Nonfiction, 212 pages, 6" x 9"
Softcover, 147 illustrations, glossary, list of fish species, index and 16 pages of color plates
ISBN 978-1-879628-50-2
For anyone who has a natural curiosity about the abundant variety of fish species in the Columbia Basin, fisheries biologist and author Dennis Dauble answers familiar questions and delves into a variety of factors related to 60-plus species in the second edition of his guidebook, Fishes of the Columbia Basin. The guide features 147 illustrations plus 16 pages of color plates, information on identifying each species plus information on their biology and behavior, and reference materials. If you're on a quest for fishes and the places they live, Fishes of the Columbia Basin is an indispensable guide.
Identify and Learn How to Catch 60+ Fish Species of the Columbia Basin
The Great Columbia River Plain is a place unlike any other in the United States, with its steep river valleys, broad floodplains, rolling grassland and barren, rocky slopes known as scabland. Within this region are the streams, rivers and lakes that make up most of the interior Columbia Basin. These waterways support diverse fish populations. In Fishes of the Columbia Basin, fisheries biologist Dennis Dauble draws on more than three decades of professional experience and a lifetime as a fisherman to cover more than 60 fish species found in the region.
Historical studies and current fishery science
Ecology and behavior
Biology and environmental factors
Identification
Including these handy references:
List of fish species by family
Locations of Columbia River tributaries and dams
Websites related to fish and fishing
147 illustrations
16 pages of color plates
Dennis Dauble grew up chasing minnows and crawdads in small creeks near his home in northeastern Oregon. He parlayed those habits into a 35-year career at Pacific Northwest National Laboratory to study the life history and ecology of resident and anadromous fishes from the Hanford Reach, habitat requirements of fall Chinook salmon, and fish passage issues at Columbia and Snake River dams. He has also had the opportunity to sample fishes in faraway places such as the irrigation canals of Italy and rios of Mexico. Dauble serves as an adjunct professor at Washington State University–Tri Cities. He earned a Bachelor of Science and doctorate in fisheries from Oregon State University and a Master of Science in biology from Washington State University. Current diversions include penning popular articles for regional fishing magazines and a regular column on the natural history of Columbia Basin fishes for the Tri-City Herald. He is also the author of The Barbless Hook. When not fishing for trout, steelhead, salmon and other fishes, he enjoys time spent restoring his vintage cabin in the Umatilla River valley and hanging out with his wife, Nancy, their two grown children (and respective spouses), and four grandchildren. Each grandchild caught his or her first trout on a fly rod during a summer stay at the cabin.
Northwestern Outdoors Radio host John Kruse interviewed book author, biologist and educator Dennis Dauble in a segment airing on affiliate stations in Washington, Oregon, Idaho and Montana Sept. 6, 2014. Click on the clip below to hear Dennis Dauble give his opinion on why we are seeing huge returns of salmon coming up the Columbia and Snake Rivers the last two years.
Praise for Fishes of the Columbia Basin
"Over the past century, nothing in the Columbia Basin has changed so much as the movement of water and the mixture of fish. Dennis Dauble reconstructs the drainage from the earliest geology to the tiniest sculpin, piece by piece. He has created a guidebook not only for anglers but for anyone who wants to peer into the liquid soul of the Interior."
–Jack Nisbet, author of Sources of the River and Visible Bones
"What fisherman hasn't had the experience of trying to identify the strange fish that decided to take a lure? Dennis Dauble's Fishes of the Columbia Basin can answer that question, and perhaps even help you settle a bet with a friend. As a scientist, Dennis provides enough detail to help you identify the various species Northwest fishermen may encounter, as well as interesting tidbits of history about the species and their role in the region's rich history of fishing. As an avid angler and newspaper columnist, he's also able to provide this information in a manner that even the layman can understand. I wish this book had been in my tackle box when I moved to the Northwest 30 years ago."
–Rick Larson, Managing Editor, Tri-City Herald
"This field guide is unique in that it not only describes and identifies the fish of the Columbia Basin region but also provides a historical perspective about fishes of the region including early explorers and scientific expeditions, basic ecology, and fish introductions. This is a well-written guide that should be useful to both students and people seeking information on fishes of the region."
–Dan Landeen, author of Salmon and His People: Fish and Fishing in Nez Perce Culture and Steelhead Fly Fishing Nez Perce Country
"In Fishes of the Columbia Basin, Dennis Dauble has taken a lifelong passion for fish, placed it in historical context and laid the groundwork for a fish-informed public. He conveys the enthusiasm scientists have for fish, gives you the background to appreciate fish diversity and asks you to join him. I hope you will because, as he says, 'Life is too short for anyone not to have a book on fishes.' "
–Douglas F. Markle, Professor Emeritus
Department of Fisheries and Wildlife, Oregon State University
"Dennis Dauble's authoritative guide to the natural history and identification of the fishes of the Columbia Basin is an essential addition to every angler's library. But it a much more than a field guide, in that it offers all readers the gift of insight into how geology, human history and ecology shaped the Columbia River Basin into one of the most extraordinary places on this earth."
–James J. Anderson, Professor
School of Aquatic and Fisheries Sciences, University of Washington