Legendary Lake Pend Oreille: Idaho's Wilderness of Water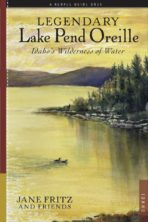 By Jane Fritz and Friends
Nonfiction, 416 pages plus photo sections, 6" x 9"
Softcover, 100+ photos, 16 pages of color plates, 16-page Ross Hall classic photos section, and fold-out color map by Terrapen Geographics.
ISBN 978-1-879628-33-5
Legendary Lake Pend Oreille is far more than a recreationist's directory: Rich with sketches about biology and botany, loaded with fascinating historical lore, and abundantly illustrated, this is a bible for Lake Pend Oreille.
Experience Lake Pend Oreille. Sprawling 43 miles long with 111 miles of shoreline, Idaho's largest natural lake is truly awe-inspiring. At more than 1,100 feet deep, it's the fifth-deepest lake in the nation. During the last ice age, it was the nexus of the most cataclysmic floods ever to scour the planet. For the native Kalispel Indians, it was the cradle of creation. It was the site of the first trading post in Idaho, built-in 1809 by voyageur David Thompson. The lake has also yielded the world-record Kamloops trout.
Add the lake's spectacular setting amid three major ranges of the Rocky Mountains, and it's no wonder Lake Pend Oreille inspires such awe. This book captures the lake's incredible features with comprehensive guides to:
- All public recreation sites for swimming, picnicking, camping and watercraft access
- Resources and advice for boaters and sailors
- Complete guide to 30+ hiking trails
- Paddle routes for kayakers and canoeists
- Guide to the lake's fish and fisheries
Written by longtime resident and avid outdoor recreationist Jane Fritz, the book includes a special foreword by the late Hazel Hall and an introduction by Francis Cullooyah of the Kalispel Tribe of Indians. Kevin Davis, Gary Hassler, Cate Huisman, Marianne Love, Heather McElwain, Patrick McManus, Jim Mellen, and the late Dennis Nicholls also wrote selections in the book.
Praise for Legendary Lake Pend Oreille
"A feat of travel writing, historiography and culture studies, it's a rare thing to find a guidebook that does so much more than simply tell you about a place."
–Zach Hagadone, Sandpoint Reader
 "Almost every page in 'Legendary Lake Pend Oreille' bears a photo, map or graphic artwork of some kind. Crack it open at almost any point and the layout makes it easy for the reader to dive deep into a piece on the lake's history or skim like a thrown rock across a section about a new hike or secret fishing hole."
– David Gunter, Bonner County Daily Bee