Stamp Counterfeiting: The Evolution of an Unrecognized Crime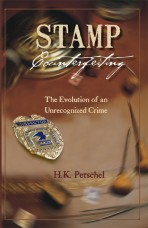 By H.K. Petschel
Nonfiction, 183 pages, 6" x 9" softcover
ISBN 978-0-615-50885-6
Stamp Counterfeiting: The Evolution of an Unrecognized Crime looks into an intriguing crime that originated in Chicago in the 1890s, when the United States was experiencing one of its economic meltdowns. A time and environment that attracted charlatans and crooks, the so-called Gilded Age drew people to the cities where they attempted to make their fortune, some by nefarious means such as counterfeiting stamps.
Covering the period from 1894 to 1940, author H.K. Petschel, a former U.S. postal inspector, delves into true crime stories that deal with real people, from the lone criminal operating a printing press in his living room to the larger underworld of organized crime. Petschel researched newspaper archives, police records and the National Archives to uncover the progression of this unrecognized crime. Stamp Counterfeiting appeals to any philatelist who shares the author's obsession with these "fascinating little bits of paper."
Stamp Counterfeiting also explores the evolution of the U.S. Secret Service and the U.S. Postal Inspection Service and the symbiotic relationship between stamp counterfeiting and currency counterfeiting. Petschel, also the author of Spurious Stamps (American Philatelic Society, 1996), uses his professional expertise and passion for his subject to provide this enthusiastic look at the historical record of stamp swindles.
As a postal inspector, author H.K. Petschel investigated many of the postal counterfeits in the 1970s and authored the manual for counterfeit investigations for the U.S. Postal Inspection Service. He has written and published numerous articles to bring national attention to the problem of postal counterfeits. The author of Spurious Stamps, he has long been recognized as an authority in the field. Today he lives in Sandpoint, Idaho, where he continues to research stamp counterfeiting when not exploring the Western mountains or Canadian north.
H.K. Petschel was featured on The Cheri Hill Show that aired Sept. 20, 2014, in Las Vegas on KLAV 1230 AM and Sept. 21, 2014, in Reno on 99.1FM Talk. Listen to the podcast using the link below.