Selkirks Spectacular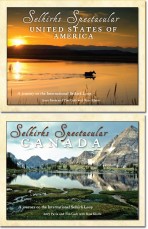 A journey on the International Selkirk Loop
By Jerry Pavia and Tim Cady with Ross Klatte
Nonfiction, 180 pages, 11" x 8.5"
Softcover, full color with more than 300 photographs
ISBN 978-1-879628-44-1
A photographic journey encircling the spectacular Selkirk Mountains of northern Idaho, eastern Washington and southeastern British Columbia, Selkirks Spectacular features amazing images by photographers Jerry Pavia and Tim Cady. More than 300 images along with chapters by Canadian Ross Klatte on the history, geology, communities, natural features, attractions, and the flora and fauna showcase this beautiful corner of the earth.
Selkirks Spectacular celebrates the International Selkirk Loop, which promotes the awesome beauty surrounding the Selkirk Mountains through a 280-mile scenic route named by Rand McNally as one of five "Best of the Roads."
But you don't need to drive the International Selkirk Loop to appreciate its unique splendor. Spend a few minutes or hours with Selkirks Spectacular to see everything from Lake Pend Oreille to Kootenay Lake and endangered woodland caribou to ruffed grouse. Enjoy a generous selection of historic photographs highlighting the area's native and ethnic cultures, mining and logging legacy, and boomtowns.
Selkirks Spectacular is a unique, reversible book, with two covers: one for the U.S. side of the loop, and one for the Canada side. Organized into Canadian destinations and U.S. destinations around the Selkirk Loop, Selkirks Spectacular includes photographers' descriptions of each photo and journal notes that tell more of the story behind some of the images they captured. The pair's photographic odyssey had them exploring every corner of the loop over the course of years in all four glorious seasons. The Selkirk Mountains are a place of forested hillsides, wildflowers, sparkling waterfalls, snowcapped craggy peaks and wildlife. Waterfowl by the thousands stop for respite on their journey through the Pacific Flyway. Moose, deer, elk and even caribou inhabit the Selkirk Mountains, along with grizzly and black bear and many others.
Jerry Pavia is an artist, photographer and writer who thrives on volunteer work as an inspirational, influential and award-winning environmentalist in Idaho and the American Pacific Northwest. Spending more than three decades as a volunteer, he served as chairman of the board for the Idaho Conservation League for seven years and has served on the board of the Yellowstone to Yukon (Y2Y) Initiative in Canada. The principal or sole photographer of 16 books, Pavia's credits include: Rocky Mountain Wildflowers; Landscaping with Roses; Creating a Garden for the Senses; Rooted in the Spirit; Yosemite National Park; Yellowstone National Park; and, Taylorís Encyclopedia of Garden Plants. Pavia lives in Bonners Ferry, Idaho, located on the International Selkirk Loop, with his wife, Ingrid.
Tim Cady is a nationally published writer and photographer. His work has appeared numerous times in several magazines including Montana Magazine, Montana Outdoors, Oregon Coast Magazine, Northwest Travel, Farming Magazine, Hobby Farms Magazine, Northern Lights, as well as local publications such as Sandpoint Magazine. His work has also appeared on postcards, greeting cards and calendars. His first book, Northern Idaho Impressions, hit the shelves in May 2009. His photos also decorate residences and offices throughout the world. Cady also teaches middle school geography in Boundary County, Idaho, and lives in Moyie Springs, Idaho, with his wife, JoAnne.
Ross Klatte is the author of Leaving the Farm: Memories of Another Life (Oolichan Books, 2007), an account of his growing up on a Minnesota dairy farm. After service in the U.S. Navy and obtaining a degree in journalism from the University of Minnesota, he worked as a newspaper reporter and editor in Chicago and Detroit before emigrating with his wife, April, to Canada in 1971. Since 1973, he and his wife have lived on nine acres of mountainside near Balfour, B.C. They have two grown children and two grandchildren, go on weekly hikes with members of their hiking club, keep a fairly large garden and a small orchard, and in the evenings like to read or watch Turner Classic Movies on television. They spend their winters in Mexico.
Also by Jerry Pavia: Rocky Mountain Wildflowers.