BE NOT CONTENT: a subterranean journal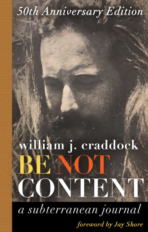 50th Anniversary Edition
By William J. Craddock • Foreword by Jay Shore
Fiction, 414 pages softcover
Be Not Content is a defining account of the San Francisco Psychedelic Revolution in the 1960s that critics have compared to other contemporaneous era-defining works by such literary luminaries as Jack Kerouac, Ken Kesey and Hunter Thompson. Written by the late William J. Craddock and originally published by Doubleday in 1970, this 50th Anniversary Edition contains a new foreword by his literary executor and friend, Jay Shore, and an introduction by his sister, Diane Craddock, as well as a selection of photos, drawings and other writings by Craddock. It was published in association with Sandpoint's Keokee Books through personal ties by Craddock and Shore.
Mostly autobiographical, Be Not Content begins with the 16-year-old Craddock riding his beloved Harley Davidson with the Hells Angels, the outlaw motorcycle club, and getting into brawls and being chased by the cops. It's an unexpected anomaly for this bright, middle-class kid from Los Gatos, California. Craddock then takes us through his college days publishing an underground newspaper, attending poetry readings with Alan Ginsberg, tripping at one of the first acid tests, and taking for days on end the strongest, most pure doses of LSD – all of it done in Craddock's quest to understand the meaning of life.
Barely 21 when he finished writing it, Doubleday bought the book in 1968 but held up publication until 1970. The first edition sold out with collectors prizing the few copies available, and copies now selling for as much as $950 in the classic book trade. Be Not Content is a powerful literary coming-of-age narrative that millions of Americans can personally identify with, capturing an unforgettable time in the cultural and sociological history of America.
PRAISE FOR BE NOT CONTENT
"Superb in the tradition of Kerouac's On The Road, with overtones of Ken Kesey and Hunter Thompson's Hell's Angels, but Craddock's style is all his own."
— Robert Kirsch, 1970 • Los Angeles Times
"The definitive book of the acid-freak movement. A psychedelic pilgrim's progress of beauty, intelligence, sensitivity."
— Joseph Haas, 1970 • Chicago Daily News
"An astounding book, so good it defies praise. The writing is superb. Craddock is a born writer with an iceberg of talent."
— Shane Stevens, 1970 • Chicago Sun Times
"Willam J. Craddock's masterpiece, legendary to those in the know, is as exhilarating now as ever."
— Elizabeth McKenzie, 2020. Author of The Portable Veblen, long listed for the 2016 National Book Award
*Not available for retailer discount