Choose to Heal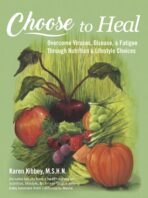 Overcome Viruses, Disease & Fatigue Through Nutrition & Lifestyle Choices

By Karen Kibbey
Nonfiction, 194 pages
Softcover
ISBN: 979-8-800806-64-9
Published in association with Keokee Co. Publishing, Inc.
Are you sick and tired of being sick and tired? Education is empowerment! In this guide to good health, master nutritionist Karen Kibbey instructs on ways to promote health and prevent disease through holistic nutrition and healthy lifestyle choices.
Among the topics covered inside are:
What is a Phytochemical?
What is a Free Radical?
What is the Healthiest Diet?
What is the R & R Factor?
What is Epigenetics?
How Can I Strengthen My Immune System?
How Can I Achieve a Healthy Weight?
What are Pseudo-Carbohydrates?
What Lifestyle Choices Promote Health?
What Are the 'P' Vitamins?
When it comes to your health ... you do have a choice! "Choose to Heal" will help you discover how to achieve a healthy life by simply making the right choices.
Author Karen Kibbey holds a Master of Science degree in Holistic Nutrition and has taught community education courses, given presentations, and educated clients as a nutrition consultant for nearly a decade. Overcoming disease through the natural health approach is supported by case studies, contemporary scholarly research, personal experience, and a cross-country epidemiological study on the correlation between chronic fatigue syndrome and diets rich in phytochemicals found in whole plant-based foods.
*Not available for retailer discount