Lessons with Love: Tales of teaching and learning in a small-town high school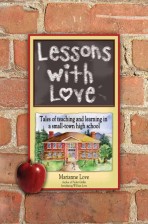 Marianne Love
Nonfiction, 288 pages, 6" x 9" softcover
ISBN 978-1-879628-28-1
For anyone who's ever gone to school -- as student or teacher -- Marianne Love's warm and humorous stories from 33 years teaching at Sandpoint High School in rural northern Idaho, Lessons with Love, will kindle both memories and laughs.
She's an English teacher, but Mrs. Love has done the math; she calculates during her career she taught some 4,500 students. And in touching all those kids, it seems, the teacher was the one who got the biggest education.
The author of three books and a retired high school teacher, Marianne Love wouldn't have lasted long in northern Idaho if she didn't have a sense of humor. Her 33-year teaching career began in 1969 and lasted until retirement in 2002, all at her alma mater, Sandpoint High School, in the rural community where she was born in 1947 and still lives. She taught English and journalism, as well as performed stints advising the student council, newspaper, yearbook and drill team, among others. A graduate of the University of Idaho, Love has written for many newspapers and magazines regionally and nationally. Her other books include Pocket Girdles and Postcards from Potato(e)Land. She also maintains a website at www.mariannelove.com and a daily blog at www.slightdetour.blogspot.com.