Sandpoint Magazine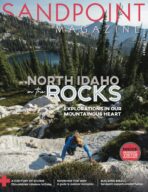 If you like Sandpoint, you'll love Sandpoint Magazine. That's our goal!
First published in November 1990 with the Winter 1991 edition, Sandpoint Magazine chronicles our town with high-quality stories, photography and artwork in a beautiful, color glossy magazine delivered twice a year in winter and summer. Editions are published each November and May.
To get the full effect of our town's No. 1 magazine, subscribe to the real-life, hard-copy edition for only $12 a year! Sandpoint Magazine is our town's leading publication, loaded with top-notch journalism, complete information on upcoming events, dining, lodging, attractions and more. Learn more and see the current and archive issues at SandpointMagazine.com.
Sandpoint Magazine is published by Keokee Co. Publishing, Inc. In addition to this magazine, Keokee Co. produces the community Web portal SandpointOnline.com; publishes books under the Keokee Books imprint; and through Keokee marketing communications provides creative services for hire to more than 200 businesses and organizations.